The Bondage Created By Hierarchial Religion!
June 11, 2017
Let's talk about the enslavement which religion creates for human beings on this planet. Today, we notice the views of radical Islam and their desires to rule this planet via a Caliphate and Sharia Law. This religion is based on a Holy Book which was written hundreds of years in the past (after 632 A.D.). The messages within this Holy Book (supposedly words from our Creator via the angel Gabriel) have not brought personal freedom and/or submission to this Creator God (with few exceptions). Can a Caliphate and Sharia Law bring us (currently some 7.4 billion people) freedom and submission to our Creator? I, personally, don't think so. Any dogmatic religion creates followers who must accept 'group think' so the hierarchy can rule over them. This is enslavement not freedom! Islam (this religion) can not bring us any personal freedom!
The religion called Christianity is another hierarchical group-think religion which assumes that they know reality and that they can bring us freedom and submission to our Creator. But can they? I don't think so! Christianity (of which I am rather familiar) espouses a Gospel which is mostly false and deceptive IMO. This Gospel assumes that we are sinners (which is obvious) so we must accept our condition, get baptised, become saved (righteous), and then make the Christian God absolute. Their God is a Trinity of persons (Jesus, Father, Holy Spirit) which is mostly a deception when fully understood IMO. Their historical leader, Yeshua, never enunciated this Gospel (of which Evangelical Christianity espouses) and Yeshua had no desire to rule this planet (as a King or God). Christianity (as preached today) is a false religion which few fully comprehend.
The Gospel of Yeshua (also called Jesus in our scriptures) was the Gospel of the KINGDOM of 'his' GOD (called Father, Abba, Yahweh, Elah, El, Eloah, Elohim, Adonai, YHWH, etc.). Yeshua, during his lifetime, did not preach this Gospel which Christianity espouses (elimination of 'sin') and salvation from this core dark-side nature. Read his own words after his baptism and his calling. Yeshua did not desire to 'save' every human being from their sin condition (this is impossible) and he did not preach that he was God Almighty (Deity)! He recognized his subservience to his FATHER who was the God of Israel (the God of Abraham, Isaac, Jacob, Moses, and the various prophets). Yeshua was a rabbi from the Tribe of Judah who espoused a message of freedom if people would promote his GOSPEL called The KINGDOM (of his Father)! His singular Father was the God of Israel whom Yeshua worshipped at the Temple in Jerusalem during his entire earthly lifetime!
Today, I witness countless Christian preachers, teachers, evangelists, and prophecy speakers who think that personal freedom and The Kingdom will arrive via their teachings and dogmas. Go to YouTube and listen to all the messages now being taught and preached by these Christian believers. I could name dozens of these group-think preachers and teachers…who live on TV and the Internet with their messages of deception. The messages are very deceptive as these leaders/preachers/teachers/evangelists THINK (internally) that their message is absolute TRUTH and FINAL reality. But, to me, these messages are only part 'truth' with much 'deception' (untruth) built within the messages. The TRUTH shall set us free (is valid) but Christian 'truth' will not set us free IMO!
There are many other religions and doctrines (equivalent to a religion) which I also view as false and deceptive. The doctrines of our elite global politicians which are promoting this Agenda 2030 program is another false and deceptive Gospel IMO. Agenda 2030 is a dogma of our political elites, the United Nations, and our money cartel leaders, who desire to enslave the entire planet with their Centralized monstrosity called the New World Order. Global governance is their religion and this hierarchical religion (belief system) is now official policy for the planet (as of 2016). Will this group-think religion (belief system) bring us personal freedom and prosperity? I don't think so! This Deep State doctrine will enslave the entire planet if it is allowed to mature into reality!
So we have many hierarchical doctrines which we can call religions and/or belief systems. In addition to the above we have Buddhism, Hinduism, Atheism, Non-dualism, Humanism, Satanism, and a host of others. All these also enslave as they promote a group-think agenda for their followers. Human beings who desire to rule over others will develop all kinds of weird and mischievous doctrines and dogma's to enslave others. Enslavement brings power to the hierarchy who desire to rule. But it brings subjugation to those being ruled. It also brings all kinds of conflict between people, wars, crime, and a follower mentality. Yes, group-think and religion also brings many positive benefits for select individuals.
Some of the positive benefits (mostly for the hierarchy) are security, social unity, political correctness, cooperation, conformity, wealth, and a reduction in fear and contention among those who follow the political correctness. The hierarchy (those who rule) desire these benefits as it upholds their rule. Just watch a typical election campaign and discern all the positive benefits which our politicians espouse while campaigning. We hear of lower taxes, more jobs, more entitlements, more health care benefits, rising wages, less anxiety, less stress, and continual growth in our prosperity. All this is promised during the election campaign and then reality sets it after the election. The Deep State takes over and imposes rules, regulations, laws, policy power, economic mandates, more taxes, and more debt.
Yes, we live in a world where hierarchies rule and where dogmas and doctrines are imposed by those in power positions. This missive was meant to focus mostly on the select religions which many of us belong to for our survival. Islam, Christianity, and Humanism could be the big three. I do not think any of these three (or any of the others) will bring us our personal freedom and our long-term happiness. I would propose Kingdom Economics as my alternative. Let the Creator rule this planet. Why? Because this source already RULES. Most of us are not aware, however! That is my perception and my message for today! Enjoy! I am: https://kingdomecon.wordpress.com.
Additional images for your consideration:
The enemy is 'within' and I must figure this out for myself!
Conformity follows from all hierarchical rule!
Religion enslaves and creates group-think among its followers!
A Creator God is real to some 80% of all peoples on this planet! Understanding, however, varies from person to person!
The word EXIST is misleading. God lives 'inside' our consciousness not in the outer universe (nature/sky/stars)!
This expert assumes his perception is absolute (there is no Creator). But has he looked 'inside' his inner self?
Atheists assume that there is no single Creator God, but could they be missing the god 'within'?
Islam says that Allah is the Creator. Could they have a point? Who is this Allah?
Radical Islam desires to create a Caliphate and Sharia Law for everyone on planet earth!
The doctrines of Islam and Christianity are much different as to details. Both, however, believe in a Creator God!
God of Evangelical Christianity is a Trinity (three persons with equal power and will)! Is this sound logic and thinking?
Yeshua or Jesus is viewed as Deity for many Christians. Others view Jesus as a prophet/Messiah (not Deity)!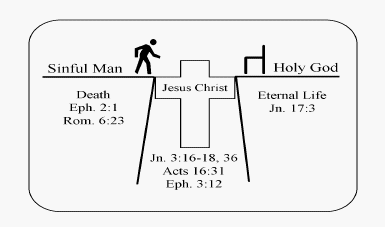 The Gospel of Evangelical Christianity can be considered as above! Man must be saved from his 'sin' condition!
The singular God and Creator in the mind's of the Patriarchs and also Yeshua/Jesus was YHWH! This Creator God was also the God of Thomas Jefferson as described in the Declaration of Independence! America was founded on the idea of a Creator God!
Rulership by the Creator can also be called the Kingdom of God and/or the Kingdom from Heaven! Man is servant, the Creator is King!