Freedom for Planet Earth (and its people) in Seven Steps!
May 11, 2017
We live on a planet with some 7.4 billion persons who are enslaved to various degrees. Some much less than others, but everyone is enslaved to a degree. This condition has existed since the dawn of man some 6,000 years prior to today. Why is this so? Why is 'man' ruling over 'man'? I would suggest that the philosophy of 'man' ruling 'man' is our core problem which we all would like eliminated (with a few exceptions). How can I rule over You (without enslaving You)? How can You rule over Me (without enslaving Me)? In reality we both are unique subjective individuals (with an inner self) who seek independence from any rulership by the other. We all seek complete independence (called freedom) from another human person ruling over us. This is human nature at the core.
The idea that I can rule over You or vice versa is the greatest problem facing planet Earth. Thomas Jefferson outlined this idea of freedom, equality, and justice back at the founding of our American nation. We put up with our enslaved condition because our current system is set-up on this philosophy ('man' ruling 'man'). This leads to WAR, CONFLICT, HATRED, POVERTY, and continual FIGHTING. Is there any alternative which would set us all FREE? Wouldn't it be great if planet Earth and its 7.4 billion people were set FREE from this enslavement? That is the quest of this missive. I think there is a way! Think on the following seven steps to achieve real FREEDOM for planet Earth! These steps could be implemented NOW!
Step #1: We need to DEED our entire planet (including all the resources, people, life forms, oceans, land areas, etc.) over to the CREATOR of this planet. Is this so difficult to comprehend? There is a Creator who owns this planet, sends us 'words' and 'concepts' to live by, and who desires that human nature be in submission to this SOURCE (Higher Intelligence). Nearly 80% of the people on this planet recognize that a Higher Intelligence is behind global events. Religion is an attempt to understand this situation. Even Science seeks 'truth' on issues of life and philosophy. Why is 'man' attempting to rule over 'man'? Give this your attention for this missive!
Step #2: We need to publicly establish a time and place for this dedication ceremony (returning planet Earth to The Creator). This could be done rather easily as we now live within a global internet society. Everyone could take part in the dedication and ceremony. We could 'lift' up the planet (symbolically) to demonstrate that we all are DEEDING the planet back to the SOURCE (our Creator). This dedication means that ownership of the planet, all resources, and all life forms, belong to the originator of such (not to any private individual, corporation, nation, or cartel). We would collectively create a new philosophy and SYSTEM with this global ceremony and dedication. Planet Earth would go back to its Creator and all people would be servants of this Creator (free at last). Is this so difficult to comprehend? Rulership (government) would go back to the Source who actually is in CONTROL now (and has been in control since day one).
Step #3:  After the dedication and deeding of this planet back to the Source, we would agree to live as equals on this planet without any wars, resource battles, killing, and the chasing after money. Money is the 'root' of most evil on this planet and under this NEW SYSTEM (philosophy) all 'money' would be eliminated. Money is merely an 'imaginary' tool for creating goods and services (a proxy for this concept called 'value'). In reality, there is NO money anywhere within our material universe. We create 'money from our minds (consciousness) and then impose this 'tool' upon those who have no power to resist. Money is a 'curse' upon humanity when fully understood. People, robots, artificial intelligence, and general creativity can provide all the goods and prosperity which we desire. Money is not needed any longer! Why enslave everyone with an 'imaginary' concept of the elites who desire only their control over this planet.
Step #4:  With the elimination of 'money' all positions of power associated with 'money' can be eliminated. Banks would become mausoleums. Traders, investors, speculators would become useful citizens who seek real prosperity not 'imaginary' units of consciousness (digits in the computer screen). Today, we create our 'money' out-of-nothing and from nothing (our consciousness). We create these units and give these imaginary units mostly to non-producers and criminals. Why would anyone in their right mind desire to continue this Ponzi scheme which enslaves most of mankind? Think of all the creativity which could be restored to productive purposes if we eliminated all these money power centers. None of these individuals (currently acting as a crime syndicate) would have the means to enslave the weak and the meek. All our financial institutions could be changed into historical mausoleums for our institutions of higher learning.
Step #5:  With no money and/or control in the hands of select elites (who enslave the masses), we could eliminate the entire military industrial complex. One KING would rule this planet from his spiritual Throne Room (our inner consciousness) and the ideas of fighting for control and ownership of scare resources would be eliminated. America could quit trying to rule this planet with MIGHT and the philosophy of THE END JUSTIFIES THE MEANS. The new mindset going forward would be the MEANS is the key to the END. Real morality and justice would prevail over mere ego and hubris to rule over others. Look at our world today, It's an armed camp of weapons for destruction of life…merely to gain temporary control over another person's territory and sovereignty.
Step #6:  Decentralization of control would be the goal for all administrators over this planet. Each territory and land area would solve their own problems with their own people (as they see fit and just). Imposing rules from a hierarchy would be eliminated and each person would participate equally in the resolution of real human problems. Americans could solve problems pertaining to America's people. Swedes could solve problems pertaining to Swedish people. Chinese could solve problems pertaining to their people, etc. Yes, everyone can utilize the expertise of others (via instant global communication) but problems could and would be solved where they originate (not by elites who desire to impose a one size fits all mentality upon the marketplace). Freedom would be restored to all our marketplaces.
Step #7:  To initiate this NEW SYSTEM we would need to educate those in current positions of POWER and force them (via non-violent means) to give up their POWER positions and their control over the current corrupted system. Those with common sense would voluntarily give up their power and seek equality with the masses. Those who refuse to give up their power would need to be forced (via non-violent persuasion or similar) to cooperate with the masses who desire freedom, equality, and justice for the planet. A NEW SYSTEM could be started as soon as people desire to seek real change. The goal of this NEW SYSTEM (and philosophy) is FREEDOM, JUSTICE, and HAPPINESS for everyone! Thomas Jefferson started this philosophy with the Declaration of Independence in 1776. My goal is merely a continuation of this philosophy so that everyone can benefit from these ideas!
Conclusion:
Think about the above seven steps to FREEDOM for our planet. The transition will be somewhat difficult but the goal will be much superior to any current attempt of our elites to improve our condition. The proposed New World Order (also called Global Governance or Agenda 2030) is a system of enslavement for all mankind to a hierarchy of corrupt banksters and politicians. Total mental enslavement would be the end result. An artificial brain of algorithms (called the Global Brain) would likely be the core administrator of all events. Justice and morality would be eliminated and math and algorithms would rule this planet. Is this what the masses desire? I don't think so! Think about becoming a critical thinker and one who desires to promote the above seven step plan. I am merely a messenger with these ideas! All credit goes to my invisible SOURCE. Enjoy! I am: https://kingdomecon.wordpress.com.
Some additional images which reveal our enslavement: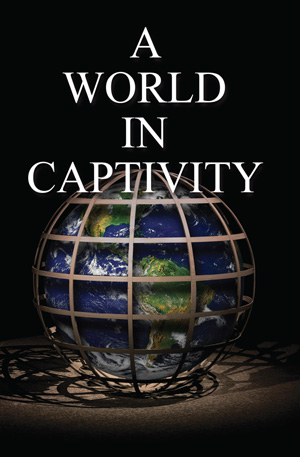 No one knows precising what the FATHER will say or do! All we can do is watch events as they happen. We are technically NOT in control! We are 'at effect'!